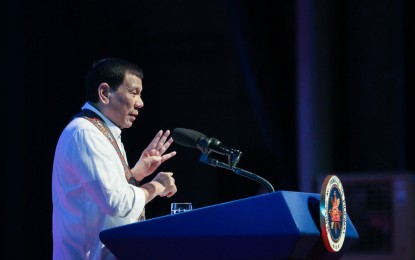 MANILA — Presidential Communications Operations Office (PCOO) Secretary Martin Andanar on Tuesday said President Rodrigo Duterte's fourth State of the Nation Address (SONA) would highlight the legacy of the current administration and its path for the next three years.
In a television interview, Andanar said President Duterte will likely discuss the government's efforts to reduce poverty, big-ticket infrastructure projects, and peace and order programs in his fourth SONA.
"Number one, poverty alleviation, bringing poverty rate down from 21 to 14 and making the economy upper middle class by the end of his term. Second would be the infrastructure projects," Andanar said.
"And thirdly, there's the peace and order highlighting the national task force to end local communist armed conflict, because you can never have progress without peace and order. And I think diyan tututok ang Presidente sa tatlong mensahe na iyan (those three topics would be the focus of the President [in his speech])," he added.
Andanar noted that other accomplishments under the economic and the business cluster, as well as the policies and programs of government agencies, would possibly be discussed on July 22.
Andanar said other controversies that could also be addressed in Duterte's SONA speech include his policy on the South China Sea and his stance on the issue surrounding the intervention of the United Nations Human Rights Council (UNHRC) on the human rights situation in the country.
On July 8, Duterte bared that he may "educate" the public during his fourth SONA on the constitutionality of the verbal fishing agreement he entered into with Chinese President Xi Jinping in October 2016.
The agreement between the two leaders allows the Chinese to fish within the Philippines' 200-nautical mile exclusive economic zone (EEZ), for as long as China will allow Filipinos to fish in the Panatag (Scarborough) Shoal.
As for the Iceland-sponsored resolution approved by the UNHRC to look into human rights violations in the country, Presidential Spokesperson Salvador Panelo has said Duterte is "seriously considering cutting diplomatic relations" with the Nordic Island-country.
The PCOO chief is expecting Duterte's fourth SONA to be a "smooth-sailing, exciting one."
"It's the first State-of-the-Nation-Address on the second half of the President's term. Everybody is ecstatic and really waiting what would be the plan for the next three years," he said.
The SONA, which is delivered by the President of the Philippines every year, is a constitutional obligation, required by Article VII, Section 23 of the 1987 Constitution.